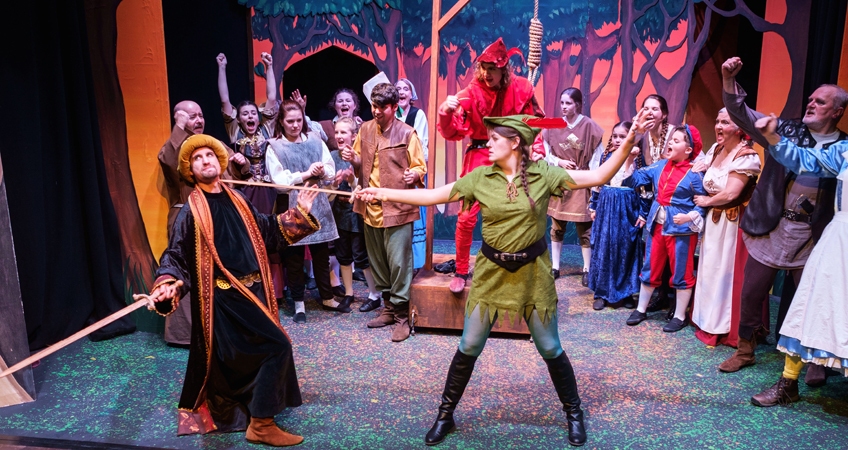 Performed in December 2015
Written by Peter Denyer
Directed by Em Whitfield Brooks
Beelzebub: Steve Lonsdale

The Sheriff of Nottingham: Joe Gregory
The Spirit of the Greenwood: Donna Kitching
Robin Hood: Natasha Jones
Maid Marian: Florrie Stockbridge

Will Scarlet: Ben Coughlan

Friar Tuck: Ed Power

Little John: Oliver Clive

Herman the Henchman: Joe Coughlan
Nurse Norah: John Lister

Janet: Esther Pollard / Esme Schofield
John: Bobby Wilmot / Felix Hughes
Soldiers: Jed Charman / Megan Chapman, Amelia Featherstone / Shona Cunnision, Amber Mason / Freya Maxwell, Katie Goodwin / Mhairi Maxwell
Senior Chorus: Amy Hughes, Rebekah Lally, Heather Linley, Priscilla McAndrew, Becca Silk
Green Junior Chorus: Lottie Barker, Josie Burn, Jed Charman, Amelia Featherstone, Katie Goodwin, Amber Mason

Gold Junior Chorus: Megan Chapman, Shona Cunnison, Ruby Hollins, Freya Maxwell, Heidi Maxwell, Mhairi Maxwell

Green Bird Ballet: Lucy Allardice, Matilda Armitage, Willow Armitage, Simeon Barker, Maia Charman, Tristan Charman, Eva Featherstone, Harriet Morrison, Arthur Wilson

Gold Bird Ballet: Isabelle Allenby, Annabel Bowes, Jana Laycock, Tilly Rivis, Tom Robson, Lara Stevens, Josh Swift,
Nyima Willis, Tabitha Willshaw
Choreography: Gemma McDonald Stage and Tech Manager: Steve Woolmer
Production Manager: Sue Elm

Lights & Sound: Chris Stevens, Connor Hamilton
Backstage Crew: Morwenna Davies, Rose Kershaw, Atlanta Russell, Mike Goslin

Costumes: Stephanie Morris, Assisted by Debs James, Judith Stevens, Paddy Clough Hair: Mandy Silk
Set Construction: Steve Woolmer, Mike Goslin, Jim Stevens
Props: John Roberts. Anne McComish and the team
Poster Design & Set Painting: Jo Walker

Make Up: Rose Kershaw, Donna Kitching, Sara Jenkins
Photography: Paddy Chambers
Thanks to: Ryedale District Council for supporting our Backstage & Technical Work Experience Programme
Our thanks also to Dress Circle and to Helmsley Traditional Sweet Shop, which kindly sponsored the sweets at all performances
Review
THE 1812 Theatre Company's Robin Hood & The Babes In The Wood must be the most compact pantomime in The Press circulation area.
Compact in the sense that Helmsley Arts Centre is not a Bradford Alhambra or a Hull New Theatre, those homes to spectacular Yorkshire pantos, but Peter Denyer's Robin Hood proves that pantomime has its own strengths in a smaller auditorium.
For a start, pretty much everyone can catch a sweetie thrown out in a shower of wrappings by John Lister's dame, the ever talkative Nurse Norah. What's more, so close up to the thrust stage, the audience can see every facial expression so clearly, and this allows you to appreciate the joy on the young performers' faces all the more, especially the tiny dancers, who are simply thrilled to be on stage.
Robin Hood is often played by a handsome young man in modern pantomimes, but tradition is alive and kicking in Helmsley where youth theatre director Natasha Jones takes the heroic role, leads the company of 30 and sings with a sense of pop drama.
Steve Lonsdale's Beelzebub has the best costume, a fiery number that looks too hot to handle, and he still has plenty of fire for a baddie's role at the grand age of 81.
That's the point with 1812's show directed vivaciously by Em Whitfield Brooks with choreography by Gemma McDonald: it involves all manner of performers: junior youth theatre group members as young as five and principals and chorus parts for youth theatre and adult company members.
Joe Gregory is a splendidly vainglorious Sheriff of Nottingham, with spot-on timing and a wickedly dismissive stare; Donna Kitching delights as the Spirit of the Greenwood, being greeted by cheers at every entry; Florrie Stockbridge sings impressively as Maid Marian.
Most enjoyable of all is Joe Coughlan's comic turn as Herman the Henchman, not always a stand-out part, but here he is wonderfully dim, as if he is on an away day from The Addams
Charles Hutchinson, York Press Dec 10, 2015
This is a 1812 Theatre Company performance